Video: Watch a Dangerous Apple Store Phishing Scam
Ever wonder what a phishing scam actually looks like? This very realistic Apple Store campaign keeps coming back a little different each time, so we decided to make a video of it. Watch one of our threat analysts go through it and see just how dangerous these can be. BTW, we're blocking it for our global customers.
With help from threat analyst Todd S.
New Variation on the Apple Store Phishing Scam
Recently, we blogged about an Apple Tax Invoice phishing scam that used an almost perfect replica of the actual Apple site, making it very dangerous.
In that scam, the email had an attached PDF file posing as a tax invoice for an app purchase. The PDF included a link to click on to check your account, which led to a fake Apple website with forms to grab your sensitive information.
One of our threat analysts noticed a new variation on that scam. Instead of a PDF invoice, it uses a nicely formatted email posing as an "Apple Store Refund Request", including a warning that someone is trying to use your account. The email has a link to a hacked site that looks almost exactly like the site that was taken down earlier.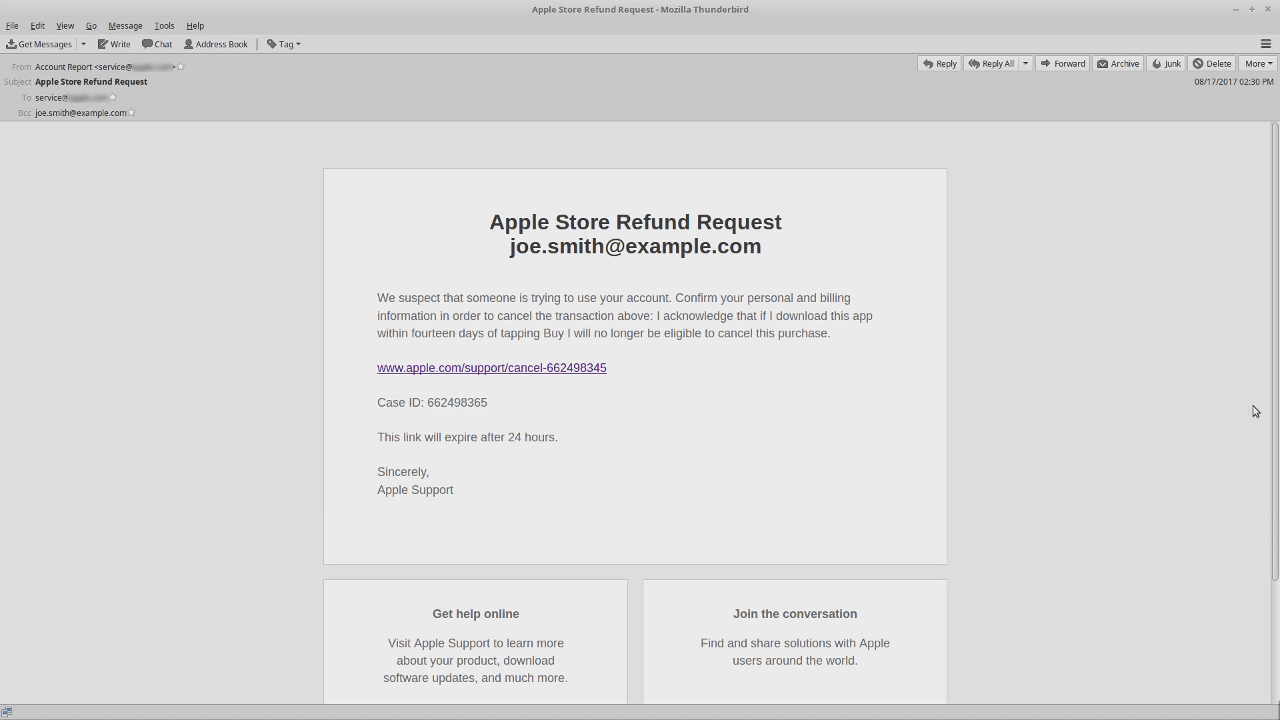 Although the email includes some red flags that it's spam (e.g., spelling and grammar errors, does not use your name), it looks pretty convincing to the untrained eye. It avoids use of "Dear Customer", replacing that with your email address and also has a phony case ID and of course the urgent language trying to make you worry that your account has been hacked.
Realistic-Looking Apple Phishing Site
The URL in the email takes you to a very dangerous landing page that looks almost exactly like the actual Apple store. There are some font and other differences, but many people who accidentally click to it might be fooled into filling out at least some of the information. Among other things, the spammer is trying to get your:
Full Name, Birthdate and Social Security Number: To steal your identity and do untold damage
Credit Card Number: To max out your card.
Credit Card Account Login: To get more info about you from your account, raise your credit limit, etc.
Watch this Phishing Scam in Action!
You must be curious to see what it looks like to click on a phishing scam, so we made a video of it for you to watch. This is pretty compelling stuff.
WARNING: DO NOT ATTEMPT
Never click the links in an email. They can be disguised to look like a trusted site. The website could also try to download ransomware or other dangerous code. This was made by trained email security professionals in a controlled environment. If you become concerned about the status of an account, go to it by typing the URL that you trust directly into the address bar of your browser.
WIth that in mind, check out the video and see what a phishing scam looks like
Note: We had to simulate the email, but the phishing site and forms are real.
About SpamStopsHere
To find out more about SpamStopsHere, check out our simple pricing and start a FREE 30-Day trial, visit our website, or contact us anytime via phone (800-458-3348 | 734-426-7500), chat or email.. We're always here. 24/7/365.