Penny Stock Email Alert - RNBI Pump and Dump Spam
BREAKING NEWS 8/25/2014: New RNBI Penny Stock Pump and Dump Spam
Update: See the Latest Developments on this Massive Spam Campaign
We blocked a massive "pump and dump" stock campaign today. It arrived in two huge waves, both touting Rainbow International Corp (RNBI) penny stocks.
This appears to be a classic scheme to pump up the price of penny stocks, where shareholders of a very cheap stock try to inflate its price quickly through a massive email campaign. When the price jumps, they sell their shares at a huge profit and the stock price drops back to its normal value. Rainbow International Corp appears to be a perfectly legitimate company and may very well just be the innocent target here.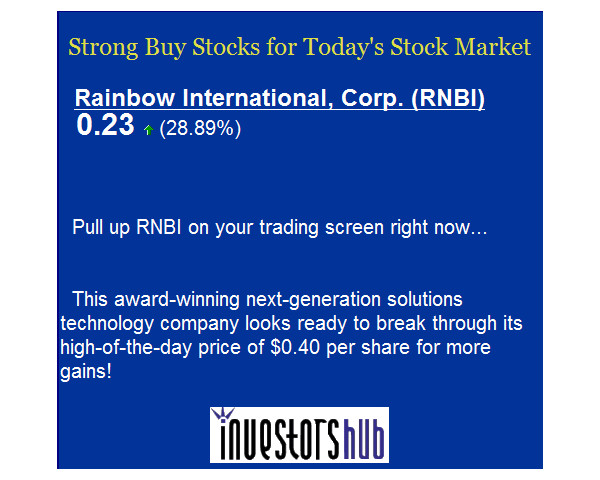 How Pump and Dump Works
Here's how it works. One or more "investors" buy shares of a very cheap stock on a public exchange. Usually, the stock is worth less than a dollar (hence the term "penny stocks").
Those shareholders then mount a huge PR blitz with "news" that the stock price is about to soar. These days it is common for the campaign to be done through email, since it is easy to send it to many people. We call this type of campaign "spam" because it appears to be unsolicited bulk email.
The senders are counting on enough people to buy the stock, sending its price up, and then sell their shares at a huge profit. The price usually then plummets back to its normal trading levels, leaving others who bought it while rising holding the bag.
How We Detected and Blocked It
Our 24/7/365 threat analysts constantly update our database to keep up with new threats. They can identify spam like this campaign very quickly and block it. Instead of relying solely on blocking "click-me" links or Bayesian Heuristics, we have additional filters to ensure that sophisticated spam campaigns like this are blocked.
That includes what we call "phrase" filters, which block based on complete phrases that we know would never occur in legitimate email. We almost never block based on individual words, like "Viagra", that can occur in legitimate email (like to your doctor).
According to our threat analyst Bryce "We blocked this campaign within moments by constructing complex phrase filters and adding the IP addresses of the sending servers to our database."
For More Info
SpamStopsHere works differently from other anti-spam programs. It blocks 99.5% of spam while delivering over 99.999% of legitimate emails. That means we block fewer that 1 out of 100,000 good emails, which is why businesses and professionals love our service.
Our spam review team, along with our proprietary Spamalyzer 3.0, analyzes and blocks email threats for our customers 24/7/365. That's a claim almost no other antispam provider can make.
Click here for more about SpamStopsHere and our 24/7/365 live support
The mark "Viagra" is the property of its owner. This article is for informational purposes. No endorsement by third parties is implied and none should be inferred.