Spam Alert: Amazon iPhone Order Confirmation Email
Follow @SpamStopsHere
Watch out for fake Amazon email using your actual name that confirms an iPhone order. It's spam with a virus infected Word doc attached.
Dangerous Fake Amazon / iPhone Email
We're blocking a dangerous fake Amazon email today that uses the recipient's actual name and claims to be a shipping confirmation with order information in the attached file.
This scam is being sent to email addresses that may have come from a recent data breach or phishing scam, because it uses the recipient's actual name associated with each address. We see this tactic used in "spear phishing" scams, but seldom like this.
Also similar to a phishing scam is the urgent message. The total price of the "order" is a lot, with a delivery date within the week, probably designed to scare the user into opening the attached file.
However, it's not a phishing scam. A virus-infected Word document is attached to it. Do NOT download or open the document.
The subject line is: Your Amazon.com order of "Apple iPhone 6 Plus 128GB 4G..." has shipped!
Here's what the email looks like: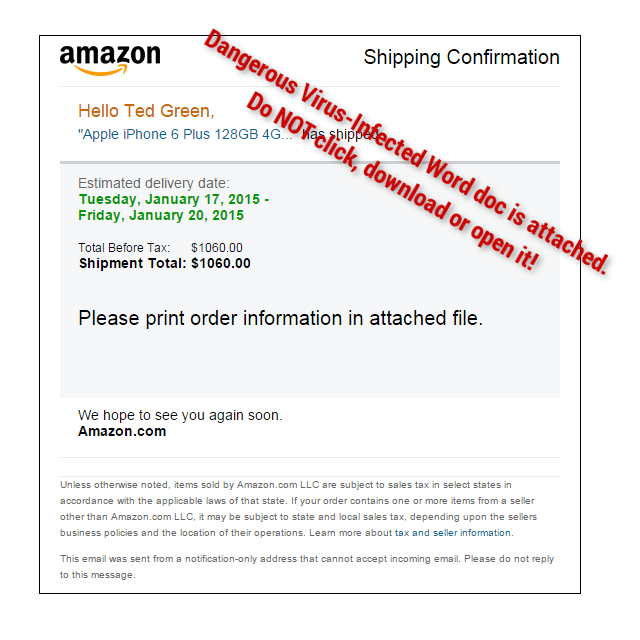 To protect our customers from this and future variations, we're blocking the campaign with at least two independent filters, and may add more if it mutates.
The attached "order information" is a virus-infected Word document. Do not click on, download or open the file. It is a Word document that is infected with a virus and could do serious damage to your computer, network and might send itself out to your contacts.
SpamStopsHere
SpamStopsHere is updated every two minutes, 24/7/365. Because it works in the Cloud, spam filtering updates take effect immediately without the user downloading or installing anything.
If you're having trouble keeping up with these threats, consider trying SpamStopsHere FREE for 30 days. It blocks 99.5% of spam while delivering over 99.999% of legitimate emails. That means we block fewer that 1 out of 100,000 good emails, which is why businesses and professionals love our service.
Click here for more about SpamStopsHere and our 24/7/365 live support
Follow @SpamStopsHere
Marks used in this article are the properties of their respective owners. This article is for informational purposes. No endorsement by third parties is implied and none should be inferred.
---